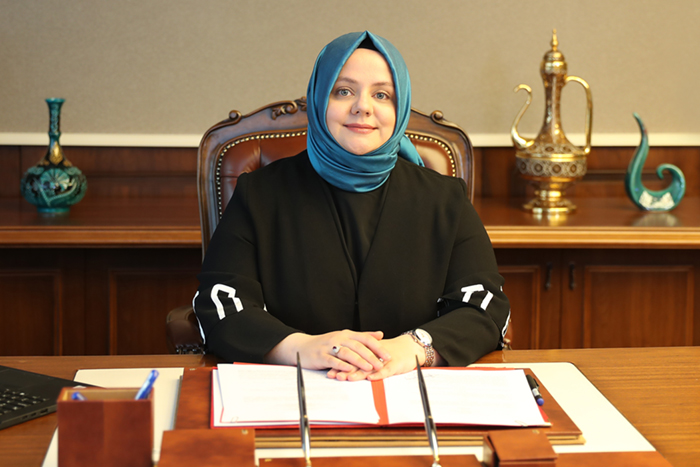 Zehra Zümrüt SELÇUK
Minister of Family, Labour and Social Services
Zehra Zümrüt Selçuk was born in 1979 in Ordu, Turkey. Having completed primary and secondary education in various cities of Turkey (İzmir, Siirt and Giresun), Minister Selçuk was graduated from Ankara Anatolian High School in 1996.

She was ranked 49thin the University Placement Examination in Turkey and admitted to the Economics Department of Bilkent University with a full scholarship. Being among top-three graduates of the Faculty of Economics and Administrative Sciences, she received admission from the University of Michigan in 2000 as a PhD candidate in the field of Economics with full financial aid.

Later on, she was admitted to the PhD Program in Business Administration at the University of Texas and gave lectures on Business Administration and Accounting as a research assistant.

Having completed a master's degree in the field of Accounting and Information Systems at the same university, she worked as researcher and senior researcher at the Statistics and Information Department of the "Statistical, Economic and Social Research and Training Centre for Islamic Countries" (SESRIC), a subsidiary organ of the "Organization of Islamic Cooperation" (OIC).

She prepared databases, surveys and reports on various topics such as gender, demography, labour force, multidimensional poverty measurement, education and innovation, information performance systems, banking and finance and development assistance.

Minister Selçuk coordinated numerous projects and capacity building programs regarding Sustainable Development Goals as the Director of Statistics and Information Department of SESRIC since 2015.

She actively participated in the organization of international meetings and worked in close cooperation with international organizations within the framework of the OIC Statistical Commission.
Having engaged in various civil society activities, Minister Selçuk is the Ankara Representative and a member of the Supervisory Board of "Women and Democracy Association" (KADEM). She is fluent in English, and married.